Your choice of academic or professional development focus
Competency-infused education
8 week Nurse Educator core courses
Earn Your Master of Science in Nursing - Online
Nurse Educator (NE)
Nurse Educators are master's prepared registered nurses responsible for educating the next generation of nurses. Choose your career pathway from two NE track options. Our graduates serve as faculty members in academic settings or as nursing professional development educators in client care settings.
The online Nurse Educator track at Research College of Nursing (RCoN) is designed to help new and practicing nurse educators hone their skills that provide the foundation for their education-focused practice.
The NE curriculum at RCoN aligns with the competencies for certifications granted by nationally accredited entities:
Certified Nurse Educator (CNE) – for academic nurse educators, provided through the National League for Nursing (NLN)
Nursing Professional Development (NPD) – for professional development nurse educators, provided through the American Nurses Credentialing Center (ANCC)
Student Story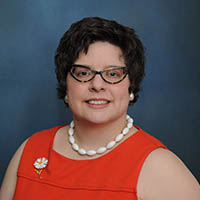 I earned my BSN and MSN at RCoN. I am excited that our online Nurse Educator track now includes the ability to tailor the degree to how you will practice—either in an academic or care setting, like a medical center. As the coordinator for RCoN's Dedicated Education Units, I talk with educators and nurses all the time who are interested in going back to school, and now this program offers more flexibility for them.
Heather Lewis, BSN '09, MSN-NE '12
What You Will Gain
RCoN prepares NE graduates for success in supporting students and practicing nurses for today's complex healthcare environment. This online MSN track offers:
Competency infused education
Proven strategies to develop and measure student outcomes
Opportunities to practice teaching in a variety of settings such as classroom, clinical and skills/simulation labs
Curriculum aligned with NLN and ANCC exams
HCA Healthcare employees are eligible for an exclusive tuition discount.
Request More Info

Call (816) 995-2820
RN-MSN Entry Point (admission suspended)
RCoN admits registered nurses with a diploma or an associate degree who desire to continue their education toward a Master of Science in Nursing. Students in the RN-MSN track do not earn a Bachelor's degree.
ADN and diploma prepared nurses complete 14 credit hours of online pre-MSN coursework
Transfer into the nurse educator MSN track
Invest Your Time Wisely – NE Track Options
Academic Nurse Educator: This NE track option at RCoN prepares you to deliver high-quality, evidence based education to the next generation of nurses. This option is your pathway to a successful career as a faculty member or administrator contributing to the creation of world-class educational organizations.
Professional Development Nurse Educator: As a graduate student at RCoN, you will access innovative curricula that strategically aligns with the needs of the nation's leading healthcare employers. This NE track option prepares you to work at the top of your scope of practice and provide maximum support for clinicians working to improve client outcomes.
Program snapshot
34 credit hours
Duration approximately 2 – 2.5 years
Online competency infused coursework
8 week NE core courses
Choice of academic or professional development focus
Eligibility
To comply with state and higher education regulations Research College of Nursing currently accepts NE students living in the following states: Alaska, Arizona, California, Colorado, Florida, Indiana, Kansas, Louisiana, Mississippi, Missouri, South Carolina, Tennessee, Texas and Virginia.
Ready to apply? Applications are accepted on a rolling admission process. Start your credit evaluation today and speak with the Director of Admissions to get started.