Who We Are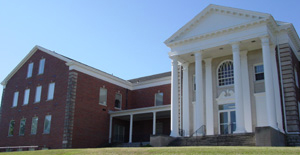 Research College of Nursing is a small private non-sectarian fully accredited institution of higher learning located in the greater Kansas City metropolitan area. Research College of Nursing, in partnership with Rockhurst University, offers a Bachelor of Science in Nursing (BSN). Research College of Nursing offers a Master of Science in Nursing (MSN). Currently six graduate tracks, including an RN-MSN track, and five post-master's certificate programs are offered.
Mission
The mission of Research College of Nursing is to educate students as professional nurses who provide safe, quality health care. Through a commitment to excellence in nursing education, this academic community promotes development of the individual as a scholar and leader dedicated to providing service to the greater society.
Research College of Nursing is committed to the following values and behaviors which are incorporated in key terms of the Mission:
Professionalism
Protection of the public
Responsible & accountable
Professional standards, code of ethics, & values
Grounded in nursing theories and body of knowledge
Lifelong learner
Provision of safe, quality care:
Positive patient outcomes
Standards of nursing care
Evidence-based practice
Quality improvement
Commitment to excellence in nursing education:
Nurtures a culture of respect and caring
Innovative teaching strategies grounded in the scholarship of teaching
Encouragement and support for faculty development
Emphasis on current trends in higher education and nursing education
Institutional support of scholarship
Development of the individual as:
Scholar:
Critical thinking, clinical reasoning
Rooted in evidence based practice
Research knowledge & skills
Leader:
Brings out the best in self & others
Inspire to connect
Models behaviors expected of others
Service to the greater society:
Attends to the needs of others;

The individual
The community
Global society
Academics
The academic community provides an atmosphere conducive to the development of the individual in scholarship, leadership, and service. Students are challenged to think creatively and sensitively to formulate a global view of nursing and a commitment to excellence in health care practice.
Faculty
A 13:1 student-faculty ratio fosters rich campus discussions and wide opportunities for student scholarship. Professors, as opposed to graduate teaching assistants, teach the nursing courses.
Students
Over 400 students are enrolled; approximately 65% are undergraduate and 35% are graduate students.