Pictured: Randy Lopez with Chiefs Chairman & CEO Clark Hunt (Photo Credit: Steve Sanders)
Every day RCoN alumni are using the skills they've honed at nursing school to care for the community – an impact that extends far beyond a patient's bedside. Alumni Randy Lopez (BSN '06) is a shining example of how our graduates are applying their nursing education to provide service to the greater society.
Recently acclaimed by the Kansas City Chiefs with the NFL Hispanic Heritage Leadership Award, Lopez sat with us to share his journey and why this recognition is so significant. "There are so many champions of community health that are so deserving of being recognized as well," explained Lopez. "Knowing that I'm part of that overall work, is what makes this award super special for me."
The Chiefs, along with Chairman and CEO Clark Hunt, honored Lopez in a pregame field ceremony during the team's home opener against the San Francisco 49ers.
"Randy Lopez personifies all the ideals of what a leader should be and we were proud to award him the NFL Hispanic Heritage Leadership Award."
"The NFL embraces its growing and passionate Hispanic fan base. Randy Lopez personifies all the ideals of what a leader should be and we were proud to award him the NFL Hispanic Heritage Leadership Award. The work he has done to improve the lives of those in the Hispanic Community through the Wyandotte Health Foundation and the Board of the Greater Kansas City Hispanic Development Fund should be celebrated and admired," said Chiefs president Mark Donovan.
Lopez currently serves as the Program Officer for the Wyandotte Health Foundation. Although he didn't picture himself in this position while in nursing school, he admits that community health has always been an underlying passion.
Impacting Chiefs Kingdom through Nursing Education
Direct patient care is a critical role in the nursing field; however, there's additional need for leaders to address important systematic questions. Issues surrounding public health, influencing policy and programming are imperative to improving overall community health. Understanding this dynamic helped Lopez find his niche.
"The critical thinking skills I learned at RCoN are still applicable and valuable today," said Lopez. He recalls one community health project that toured area neighborhoods. There he began to discover opportunities to engage and support residents, having a lasting impact. This foundation of patient-centered care established in his nursing courses continues to influence Lopez's decision making.
"My job allows me to be authentically present in our community – and that's exciting. I take everything I hear and lift that voice up so that decision makers in government, philanthropy and other areas can hear the voice of our community. Sharing our community voice and stories to those making decisions help bring understanding of where they fit in all of the impact, because decisions made everyday impact real lives in very real ways," he explains.
Paying it Forward
As a first generation college student Lopez understands the challenges many students face when pursuing their degree. On overcoming mental obstacles, Lopez says, "As students of beautiful colors we sometimes have the imposter syndrome asking ourselves: 'Am I smart enough; do I belong?' Absolutely we do!"
He cautions nursing students to not be discouraged because classes are difficult, "The challenges you face in the classroom are preparing you to be a better 'you' in the field – whatever you decide to be."
Lopez also credits his success to the financial support he received from academic scholarships through The Research Foundation and the Greater Kansas City Hispanic Development Fund (HDFKC). Over the years his career journey has come full-circle, from being a scholarship recipient to an HDFKC board member helping with the award process for the next generation. Along with the NFL leadership award, Lopez received a $2,000 donation to his charity of choice – HDFKC.
He gratefully recalls the generosity from the scholarship donors who helped him complete nursing school. "My time at RCoN was amazing. You have wonderful faculty who support you and want to see you succeed. Knowing I had an additional community behind me with the HDFKC scholarship saying 'you can do this and we believe in you', is a great feeling!"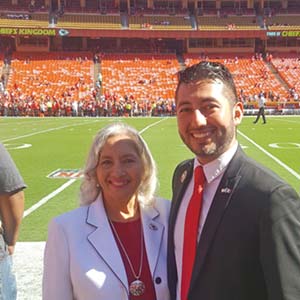 Randy Lopez with mother Guadalupe Lopez during pre-game ceremony
Tackling Challenges of Community Health
While being recognized at the Chiefs home opener was a tremendous honor, Lopez is even more appreciative that the experience shined a light on the collective efforts for improving community health.
"We need to keep working to help improve and support our Latino community and entire metro. We have a lot of challenges, and if we can support one another and keep working hard then we can overcome some of these issues together."