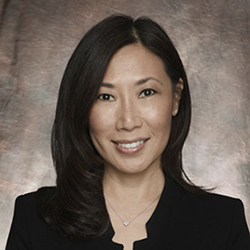 As a part of HCA Midwest Health, Research College of Nursing promotes an inclusive culture that embraces and nurtures our students, colleagues and communities. This May, we honor Asian American, Native Hawaiian and Pacific Islander (AANHPI) Heritage Month by celebrating the diverse histories, cultures, languages and experiences of the AANHPI community. We are pleased to share the following alumni interview of Lucy Joo-Castro, PhD, RN, who has traveled the world and become a champion of community health, caring for marginalized communities.
Lucy Joo-Castro grew up in Shawnee, KS. Initially on the path of law school, she earned a political science degree from the University of Kansas in 1993. Her interest in healthcare grew following her mother's passing of stage IV stomach cancer. Lucy enrolled at Research College of Nursing and graduated from the Accelerated BSN program in 1999 - making her among the first Asian graduates of the College.
What have you been up to since graduating from RCoN?
"After graduation, I had the privilege to serve as a commissioned officer in the U.S. Navy Nurse Corps and was stationed at Balboa Naval Hospital in San Diego, California. There, I met my husband, who was in the midst of his ENT residency. As dual active duty members, we had the opportunity to travel the world together.
Throughout my career, I gained experience in a range of specialties, including pediatric med/surg, pediatric oncology, ICU, postpartum, adult med/surg, cancer patient navigation, and education.
After the birth of our first son, I decided to transition to civilian nursing while my husband continued to serve in the Navy, leading us to live in several different locations both in the U.S. and abroad. One of our most memorable duty stations was Okinawa, Japan. Over the years, I pursued higher education and obtained a master's degree in nursing education, followed by a PhD in nursing research. Today, I am proud to balance my roles as a mother of two boys (one in college, the other in high school), an adjunct nursing professor at the University of Guam, and the clinic manager for my husband's private practice."
Did you always plan to practice overseas while you were at RCoN?
"I have been living in Guam, a U.S. territory, since 2011. My husband, a native of the island, always wanted to return home and practice here, so I knew from the beginning that I would be practicing overseas."
What is your favorite thing about your current role as a nursing professor?
"I love my students! My students are curious and super driven. I especially commend those in the nursing program during the peak of the COVID-19 pandemic. Their ability to adapt and remain positive through multiple challenges was a true inspiration to me!"
What prompted your COVID-19 study in Guam?
The COVID-19 study is a brief report, "No Man Is an Island": Perspectives of CHamorus in Guam on COVID-19, derived from a larger study aimed at understanding the perceptions of the Indigenous people of Guam, the CHamorus, and how their traditional practices intersect with their present-day health beliefs. The broader study coincided with the onset of the COVID-19 pandemic, providing an opportunity to investigate the experiences and perspectives of CHamorus on life in Guam during challenging times.
The broader research is titled, Locating Culturally Safe Care in Narratives of Historical Trauma and Health in Guam: A Third-Space Model of CHamoru Health, also published.
What is something you learned at RCoN that has stuck with you in your career?
"During my community health nursing rotation, I was mentored by nursing faculty Kathy Scaletty, with whom I still maintain contact! Kathy's perspective truly resonated with me, as it instilled in me the importance of appreciating and learning from the community."
"Her teaching was a valuable lesson that understanding population health requires more than just knowledge of disease processes but also understanding the social determinants of health."
"This lesson stayed with me throughout my nursing career and may have even sparked my interest in population health, particularly for marginalized communities."
What did you enjoy most about your time at RCoN?
"Without a doubt, the friends I made during the program were the highlight for me. I loved that we all came from diverse backgrounds and had previous bachelor's degrees. Not only did I learn from our faculty, but I also learned from my classmates, who were paramedics, respiratory therapists, biologists, and more! The camaraderie and collaborative environment were essential for me to make it through the program."
What does it mean to you being among the first Asian American graduates of Research College of Nursing?
"Having this recognition is significant, even if there were others before me who were not tracked. This speaks to the historical lack of representation and recognition of Asian Americans in academia, but more importantly, it is a testament to RCoN's progress in promoting diversity and inclusion. Giving a nod to the underrepresented and marginalized groups is important because it recognizes the challenges they have overcome. This can inspire future generations to pursue their dreams and goals despite any obstacles.
Personally, as an immigrant from South Korea, I am proud that I am part of a community that has overcome many challenges and obstacles. My success is not just a reflection of my efforts but also of Asian American resilience, hard work, and sacrifices.
Professionally, this recognition underscores how my unique perspective and experience are valuable in fostering a more inclusive and collaborative environment. It reinforces the significance of diversity and inclusion in higher education."
What advice do you have for the next generation of nurses looking to follow in your footsteps?
"Never say never! During my time at RCoN, I found Nursing Research to be my least favorite class. If someone had asked me back then if I had any interest in becoming a nurse scientist, I would have confidently answered 'Heck no!' However, as time went by, my perspective changed. Now, I hold a PhD in Nursing Research and I am a professor in this field that I have grown to love.
"I encourage all undergraduate nursing students to approach each class and nursing experience as a stepping stone towards their ultimate nursing career."
"Remember, finding the right nursing career path is often not a linear process, and every class or experience can provide valuable lessons. Keep an open mind and never be afraid to challenge yourself!"