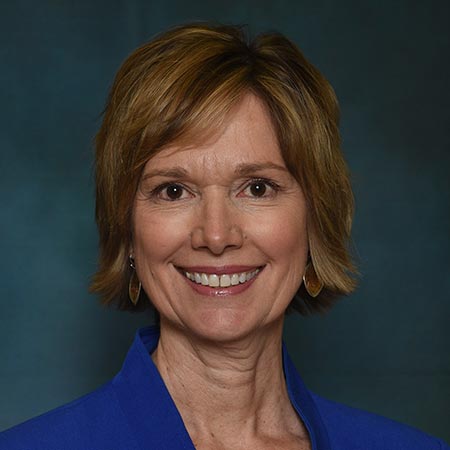 Research College of Nursing celebrates Dean Nauser's contributions to the college after nearly a decade of service.
Looking back, the last 30 years at Research College of Nursing have been filled with milestones of evolution and growth. One constant over the years has been the leadership of outgoing Dean Julie Nauser, PhD, RN, CNE. As she embarks on retirement from administration we celebrate Dr. Nauser's tremendous contributions to the College over the years.
Care Like Family
Since graduating from RCoN's first Bachelor of Science in Nursing class of 1984, Dr. Nauser has served the Research community for more than three decades. Beginning as a cardiac nurse at Research Medical Center, she transitioned into a nurse educator role and went on to earn her doctorate from Indiana University. Dr. Nauser credits her success to the guidance of her mentors such as former RCoN Dean, Dr. Nancy DeBasio and Dr. Bobbie Siler; advisor at Indiana University, Dr. Joanne Warner; and her faculty as a student Dr. Karin Roberts and Sheryl Max.
"There were 120 students in my BSN class and the faculty truly connected with each of us," she recalls. "They were mentors to my development and socialization into the nursing role, which meant so much to me." Those caring interactions with faculty laid the foundation. Her passion for teaching grew as her nursing career evolved. Taking on leadership roles early in her career, Dr. Nauser has been committed to maintaining RCoN's reputation as a supportive, family environment. She organized celebrations and recognitions to help individuals feel like a valued part of the College even as the institution continued to grow.
Inspiring traditions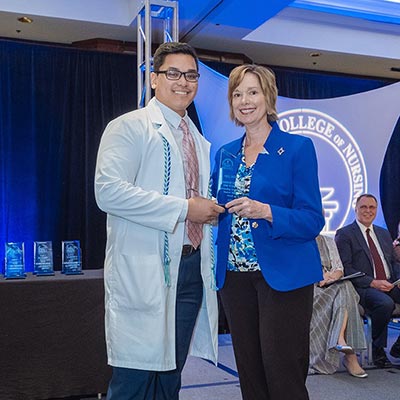 Dr. Julie Nauser present's award to RCoN graduate, Arel Roxas, during 2018 Pinning Ceremony
Since 2004 she has helped coordinate the annual Bobbie Siler Scholarship Day program at RCoN that celebrates the scholarly work of students, faculty and alumni. In 2013 Dr. Nauser was appointed the first independent Dean of Research College of Nursing. A role previously held in tandem by the College president. This distinction allowed Dr. Nauser to usher in new processes and initiatives that would propel RCoN to the next level of excellence in nursing education.
She actively worked to secure distance education permissions in states across the nation which enables more nurses within the HCA Healthcare family to access RCoN's MSN program and tuition discounts.
Pioneering partnerships
As Dean, Dr. Nauser's responsibilities included oversight of the award-winning academic practice partnership between Research College of Nursing and Research Medical Center. She was instrumental in identifying resources which strengthened the relationship between the College and its clinical partners at HCA Midwest Health.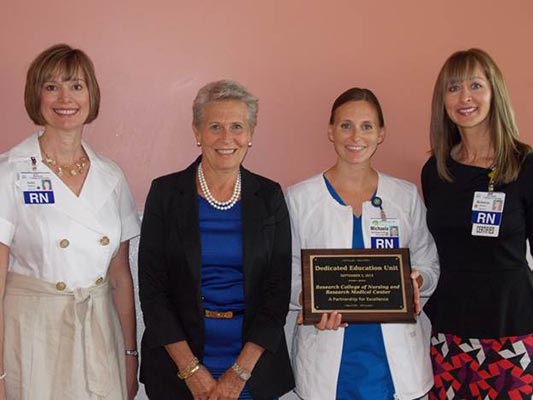 (Pictured left to right) Dr. Julie Nauser, Dr. Nancy DeBasio, Michaela Logan, Dr. Rebecca Saxton during first DEU ceremony at Research Medical Center
Under Dean Nauser this partnership expanded to hold the region's largest Dedicated Education Unit program, which is an innovative model of clinical instruction for enhanced student learning and staff nurse development.
During her deanship, Dr. Nauser's leadership extended across the region serving several organizations, including: secretary of the Missouri Association of Colleges of Nursing (MACN), MO's state grassroots liaison for American Association of Colleges of Nursing (AACN) and president of the Collegiate Nurse Educators of Greater Kansas City (CNE-GKC).
Dr. Julie Nauser visiting Washington, D.C. with RCoN students
Dr. Nauser continues to be a highly-respected presence in the professional nursing community. As she embarks on a new student-centric role, Research College of Nursing is deeply honored to have her continued dedication to our College community.